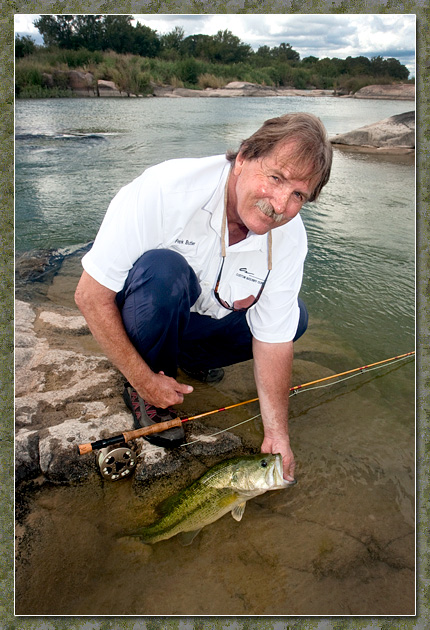 guys.  i've been away on long hiatus.  after a busy season in patagonia last summer (winter in the northern hemisphere), i spent a fishless winter in Buenos Aires much to my chagrin.  i needed a break since i've pretty much done nothing but traveled and fished for the last 16+ years.  i was uncreative and a little uninspired, so rather than post some half-ass junk just to fill the blog, i decided to leave it alone for a while.
anyway, i came back to the northern hemisphere around the beginning of september, did a little fishing on the coast and some in the hill country, and also took a 10-day trip to the Yucatán to chase baby tarpon.  i'll post those photos soon!  i'm going to make an effort to keep the blog to date in the following months.
in the meantime, here's a photo of my good friend Frank Butler who travels and fishes with me all over.  we spent a great day on the Llano River a couple weeks ago.  we fished top water all day and boated around 100 bass, mostly nice chunky Guadalupe bass and some really nice largemouth.
anyway, drop me a line if you want to chat:  joey@faroutfishingtrips.com….cheers!