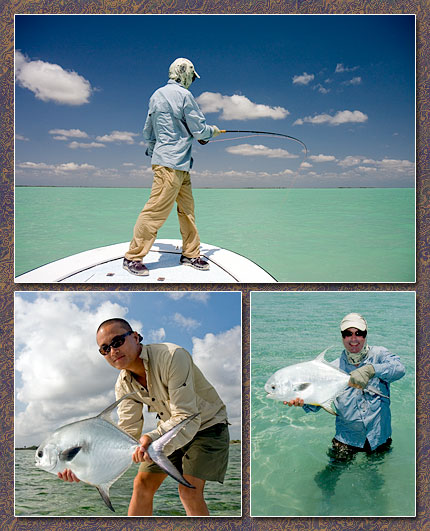 guys, ok…internet connection here at Casa Blanca was down for the last couple of days, but here's a quick update.  fishing is bad-ass…
SWINE FLU is a joke, the only pigs i'm seeing are the ones at the END OF OUR FISHING LINES!!!  i fished with Danny Canale yesterday with guide Eladio.  got 2 permit.  jumped a tarpon about 4 times and the hook popped out.  if i was more careful, i could have attempted a grand slam, but who gives a crap, right?  i'd rather just go after more permit or tarpon than comply with some arbitrary human construct or invention as a 'grand slam'.  WTF is that anyway?  so we go and find some 6 ounce bonefish just to complete the 'grand slam'??  but the point is that you COULD get one here if you really wanted to, cuz the fishing here rocks…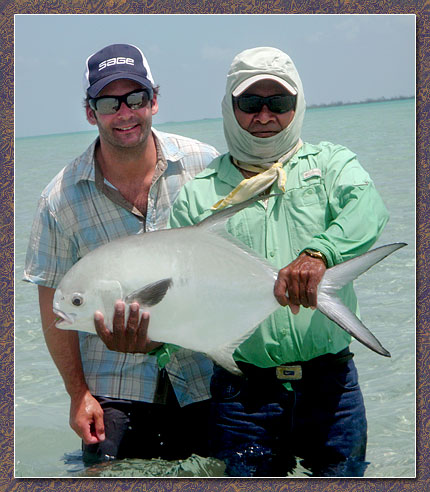 Danny's permit was the second 'lunch time' permit caught this week, meaning it was caught wading while we were stopped and eating lunch.  today (day 4), John Howe got his first permit ever, wade fishing near Xhobon.  he's not a permit virgin any more.  although there are much worse types of virgins to be than a permit virgin.  all in all, we have 9 permit landed for the week so far, which is pretty good considering not everyone is looking for them, even though they should.
tradition here at Casa Blanca and Playa Blanca says that those who catch their first permit on fly MUST eat a tequila-soaked scorpion.  i've caught many permit and eaten exactly 2 scorpions, none of which corresponded to the other, but hey…go with the flow.  pictured here is Chris Canale who was way over due with his scorpion dessert….ok, we look retarded here.  but we're drunk and HAVING FUN, so cut us some slack.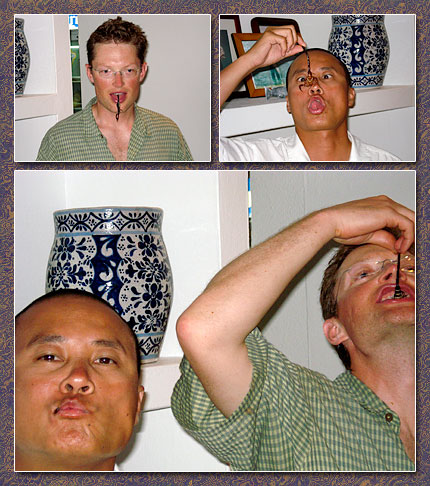 ok, i'm getting the hell out of here and going to bed.  talk at you guys later.  oh, photos by Joey Lin, Danny Canale and JOE (i'll get your last name here when i find out what it is).  laterz….