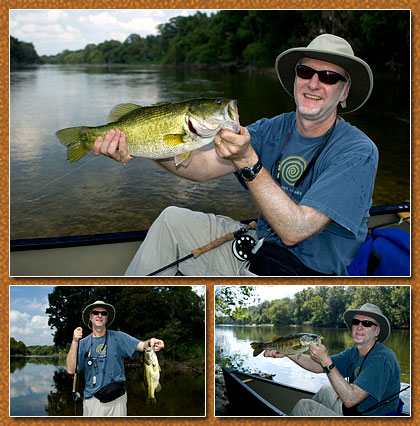 ok, here are some photos from friday, a guide trip i did with Hans Sander of Austin. before i get into the details of the fishing day, i just want to say a few things. back in the mid 90's when i was working at the Austin Angler, nobody was guiding in the Texas Hill Country. there was a guy by the name of Dan McGrath who did some Llano trips, and Scott Graham who did some stuff on the Guadalupe and Blanco Rivers, and moved on to do more at the coast. but essentially, nobody specialized in Hill Country streams or (guadalupe) bass fishing. i took it upon myself to learn the Hill Country rivers, inspired by the late Bud Priddy himself and my own desire to promote wild, native fishing rather than the putt-putt golf-esque, put-and-take trout fishing we have on the Guadalupe River.
anyhow, during those years, i paid my dues, setting standards for guiding on rivers like the Medina and San Marcos Rivers, to name a few. i regularly guide and fish over 500 miles of water within 2.5 hours of Austin. suddenly, now, everybody and their moms are fly fishing guides, which is cool, i supppose. but this isn't so much to rag on anyone, just to set the record straight, and to say 'I REALLY know what the HELL i'm doing'….
so, anyways, these are photos from the other day in a river (i won't name it, no need), very public and not far from Austin. Hans was curious to fish it, and so was i, being that the rivers had been flooded and not pressured for most of the summer. we fished 2 flies all day long. Hans hooked about 40 bass, most of them in the 1-2 pound range, but what set this day apart was the consistent topwater action (full moon recently, no less), and the BIG FISH. he got a largemouth close to 4 pounds on a clouser minnow, another largemouth of 4.5 pounds on a popper…and an 18 inch guadalupe bass that weighed just a tick under 3 pounds. this is another amazing achievement in my guiding career (locally, at least).
first of all, most people in their lives won't see many guadalupe bass over true 14 inches. if they do, most likely they are hybrids or mis-identified. i've been to local fly fishing shows where i've seen guides mis-identifying these fish. and i also carry a boga grip to weigh all my big fish. most 3 pound fish are 5 pound fish to most people. anyway, i've caught personally some very large guadalupe bass in secret places that have been in the 17.5 inch to 18 inch range, but the shear girth of this particular fish ranks up at the top. the state record guadalupe bass was caught in the early 80's by a guide named Allen Christenson (sp??), which was 3 pounds 11 ounces. this was a lake fish (could it have been a hybrid??). so to take a river fish of this species of almost 3 pounds on a fly is quite an achievement (congrats to Hans!!). also, Hans landed every BIG fish of the day, keeping them out of the sticks and landing them, which requires a lot of skill and luck.
anyway, to end this long post, all i have to say is that this was a wonderful (crazy) day of fishing, in terms of numbers and size. i know that those aren't the benchmarks of good days on the water, because they don't factor in a good time, etc., but hey, this is my blog and i'll say what i want. cheers. (photos copyright JOEY LIN, mind you…)