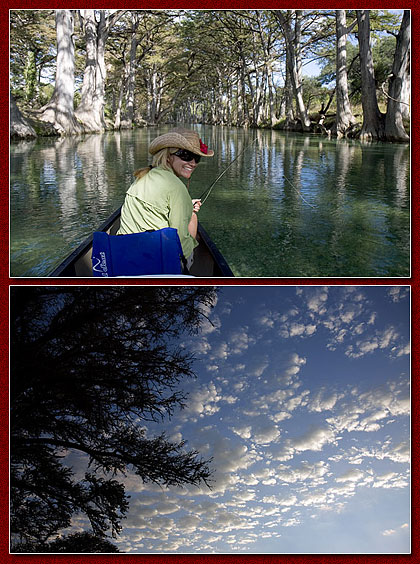 guys, really really really sorry about the lack of posts.  been having computer issues, and also i'm getting ready to leave for Argentina until June, so i'm a bit busy these days.
went sunday with the lovely Celine Adams to a secret spot out in the hill country.  a great float with crystal clear water to 12 feet!!  the fishing was a bit tough, they weren't eating too well.  also, the water was so clear that the fish could see us coming from a mile away.  it was also quite windy, so i was making noise just trying to keep the canoe in position, as we were getting blown all around.  and the cypress leaves were falling in the water, so we'd get hung up on junk every other cast.
it was an enjoyable day, nevertheless.  Celine caught a few nice Guadalupe bass and hooked a huge largemouth in the 4+ pound range, but it got away.
-Joey