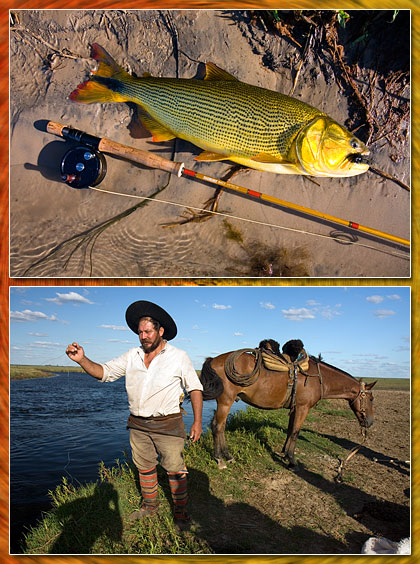 guys, i'm at Pira Lodge now, where i used to guide.  came down to spend a few days here to see the Iberá Marsh one last time this season and to visit my friend Noel, who is the manager here.  we go back a long time since the first year of the lodge, he was always my favorite guide before i started guiding here.
right now the water is getting low again, it hasn't rained in 2 months.  i'm also here checking out some new Sage bass rods.  i think they are marketed kind of funny, they should be the Sage Dorado Rods.  just look at the colors and tell me they aren't the perfect rods for dorado fishing???
the photo is of a 6 pound dorado taken from the Rio Corrientes near the lodge.  was a great day of fishing, we came down to the river on a rare day off with Emiliano the chef, Carolina the lodge hostess and Felipe and Vincente, 2 of the guides.  i caught one of 10 pounds, and jumped and lost another in the 7-8 pound range and caught a few smaller ones.
this is one of the gauchos in the area, fishing with a hand line.  i didn't take a picture of my 10 pounder since they were nearby, and didn't want to draw attention to the fact that i was catching fish.  right now with low water, there is access to the river's edge from all around.  in normal water levels, the river banks are flooded, but now they are dry and people graze their cows.  the birdlife is still as amazing as ever here, at least 100 species visible each time we go out.  photos © Joey Lin 2008