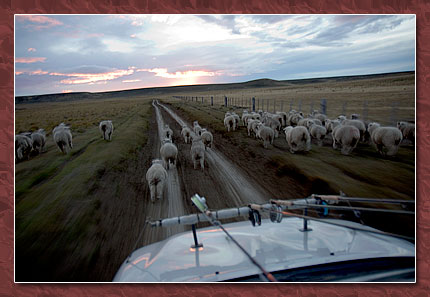 ok, so the second half of my trip. i left Irigoyen and headed for Rio Grande where i had to meet up with some clients of mine that flew in. this was Bennett Dorrance and some friends, all super nice guys. we had originally booked Kau Tapen Lodge, but because of schedule conflicts, had to move to Toon Ken Lodge further up river. again, the fishing was a bit slow, the water was 1 degree celsius, and i was stuck guideless to fish the river. but this was a business trip for me to visit Toon Ken (haven't been since they rebuilt the lodge a few years ago), and to visit some guide friends over at Kau Tapen.
there were some fish caught in the 3 days the group was there, but not many by either lodge in this particular week. some rain had brought some fresh fish into the lower river, but not too many up where we were. Bob Anderson got a 15 pounder and a 12 pounder, and the rest of the guys caught some smaller resident fish. i didn't do so well. the photos are of the upper Rio Grande. there's my friend Barrett Mattison with a 16 pound sea trout (hen) caught by an Argentine client. the sheep photo is on the Estancia San Julio on the way back to Toon Ken. i couldn't decide which photo i liked best, so i put up this version. but CLICK HERE to see an alternate version. i like them both.
food and lodging were excellent at Toon Ken. the highlight of the trip for me was going with the group to Ushuaia (where Bennett had to park the plane), and eating centolla (king crab) and taking the flight back to Buenos Aires. Bennett was kind enough to invite me on his Dessault Falcon, an impressive private jet. never been on a private plane like this one. was the smoothest plane ride i've ever been on. was amazing how quickly and easily it climbed to 43,000 feet, our cruising altitude.  photos © Joey Lin 2008, cheers!