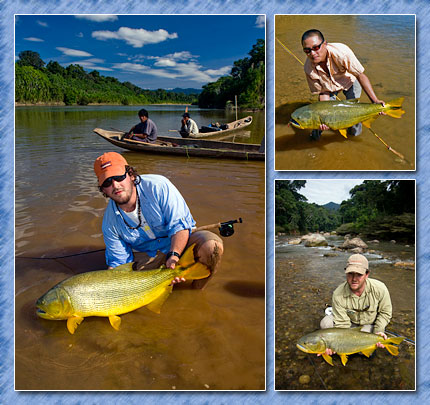 guys,
i'm headed back to the Bolivian jungle for 5 weeks to host a couple groups of anglers in the new exciting destination, Tsimane Lodge.  if you want to book a trip during prime time for 2010, please EMAIL ME asap!!  (link is in the upper left corner)
here is part 3 of our scouting trip in June.  i've got lots of more interesting photos that i will share with you at a later date, but i know people were wanting to see some big fish, so here are a couple of them.  we caught countless fish in the 10-20 pound range, lots in the 20-30 pound range and a few in the 30+.   pictured here is Felipe Morales with a nice fish in the 34 pound range (??), Mike Nelson with an average fish (not his biggest), but you can see the beautiful clear small stream from which it came (and many much bigger)…also, here is a monster fish of mine that is pictured above and below in a different view.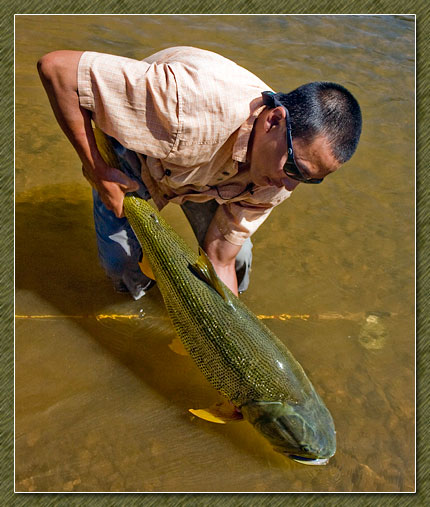 this was my last fish of the trip, a view from above, courtesy of Mike Nelson.  this fish was very close to 40 pounds, but i will call it 38 just to be on the safe side.  look at the girth across his back (and his belly in the photo set above), i could barely lift him out of the water.  an absolute monster.
ok, i'm off to bed, going to Bolivia tomorrow.  cheers.  (photos ©  Joey Lin and Mike Nelson, 2009)