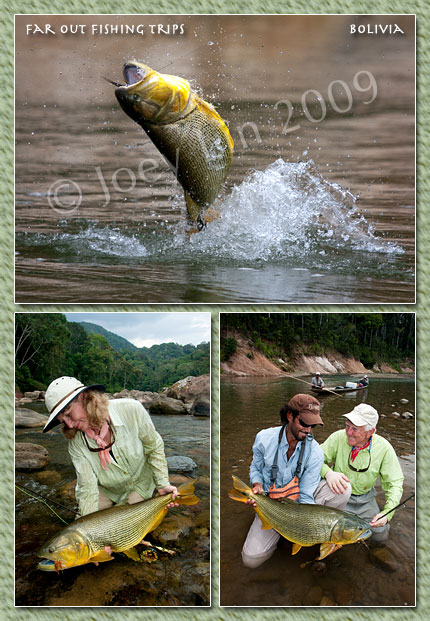 guys, i just got back from 5 weeks in Bolivia.  the last week i was there, i hosted my friends Dave and Emily Whitlock who we invite to come and do a magazine article on this exciting new destination.  ANYONE WANTING TO BOOK A TRIP, please email me ASAP as spaces are going fast (joey@faroutfishingtrips.com).
Dave and Emily were the perfect people to write a definitive article about dorado fishing.  they have been champions of warmwater and freshwater fly fishing for so many decades that they bring a complete and well-rounded perspective to publicizing and understanding this complex species.  dorado have so many characteristics of all the legitimate game fish species (such as tarpon, brown trout, atlantic salmon, permit, etc.), but are also uniquely their own.
the trip was quite successful, as both of them experienced the full gamut of the dorado experience…everything from sight fishing, seeing feeding frenzies, being skunked or frustrated by fish that wouldn't eat, spooky fish, missed hook sets, broken leaders…you name it.  best of all, the last 2 days ended with lots of action and several big fish being caught.  pictured here is Dave's 32+ pounder jumping, Dave with the same fish (with guide Alejandro Bianchetti) and Emily with a classic shot of her and a 26+ pounder in the Rio Itirizama.  that picture invokes a very "lost in time" feel, which quite accurately captures the essence of the fishing experience there.
more photos to come.  all photos © Joey Lin 2009.  cheers!