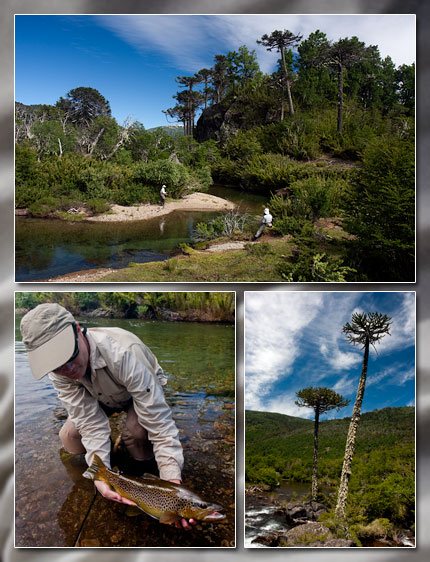 oh, my god.  3 months without a post.  that's blog blasphemy.  excuses, excuses.  i've been wrapped up in personal stuff, not to mention lots of extraneous non-fishing travel,  being in the wrong place at the wrong time, freezing my butt off in the northern hemisphere during November.  then slowly dying in Buenos Aires with nothing going on but drinking and spending money.  need to get back outside.
well, needless to say, i'm back in Patagonia, now.  hosting a bunch of groups at our place with the Northern Patagonia Fishing Club!  holy crap, the weather is nice and the fishing fantastic (more on that later!).
went out with my good friend and guide Javier Herrera to explore a crazy little creek.  spent a few days backpacking to fishless water, but found a little gem of a creek.  caught a few 22-inch browns and spooked some even bigger.  here are some photos of the area and me with a chunky 18-incher.  lot of new zealand-style fishing here.  if you can stand long enough to cast, the horseflies were ridiculous.  you'd be lucky not to inhale one while breathing, they were so thick.  but isn't there always some kind of catch with all good things???  (photos by Joey Lin and Javier Herrera, 2010).  cheers!