far out fishing
the travel blog for faroutfishingtrips.com (and other spiffy fishing stories)
About Me??
ok, not sure if this should be about ME or about the BLOG. i'm new to 'BLOGGING', and as i don't really know what i'm doing, i'm just going to make this about whatever, for the time being.
i'm a fly fishing guide that has been traveling and booking hunting and fishing trips to argentina (mostly), texas and some caribbean for 10+ years now (http://www.faroutfishingtrips.com/). most of my time is spent fishing or organizing fishing for myself and others. i worked for almost 9 years at a place called The Austin Angler and started their guide service there back in the mid-late 90's.
a lot of my time is spent traveling in relation to fishing or my business. i'm living most of the time in argentina these days, but regularly host groups of fishermen to other destinations, and spend some time back in my home town of austin, texas. please call (888-795-3474) or email me (mail link at upper left) if you want to book a trip. i can either arrange it or put you in touch with the right people.
so as you can see, i'm going to write about 'anything and everything connected to a life of fishing', as everything i do is somehow related to my passion of fishing, if even remotely.
oh, here's me with a 40 pound dorado i caught on a fly last march. sorry about the tacky copyright, but some argentines like to steal photos of big dorados that they don't have photos of, for their websites, so i may as well make it a pain in the ass for them.
cheers,
joey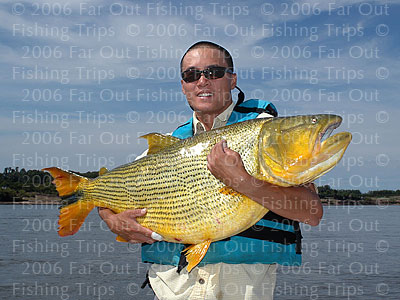 10 Comments
Joey,
How do I log on?
That's a damned big fish!!!
rhart
Joey,
Any plans to dorado fish before you head to Casa Blanca?
Hale
joey
wrote @ May 15th, 2007 at 9:12 pm
yeah, we're supposed to head up to Yahapé next week or so. it's sebastian's dorado operation on the upper Paraná. you catch dorado, pira pitá, pacu and do some pretty good pigeon shooting. if u get back down to argentina before end of may, you should come with us!
Banning
wrote @ June 22nd, 2007 at 12:54 am
Hope you're rockin' out with you're cockin' out. Hope all is well. You do great work.
Jeff Holt
wrote @ January 15th, 2008 at 8:17 am
Hey there Joey Lin, I remember you from the Daily Texan. Nice fishing life! Way to go. Anyhow, just wanted to send a hello from your past. I am living in Hanoi, Vietnam with my wife. She's a development worker. If I remember you well then your fishing trips must be a lot of fun. All the best.
Jeff
Hey Joey,
It has been quite a while. I just found your web site and blog. Well done. The photography is beautiful. I'm glad to see that the South American gig is working out for you. The last time I saw you in Austin you had really just started. I think it was about the time the Austin Angler shut their doors (Opal Devine's maybe). At any rate I just wanted to say hi. If you are back in town this summer get a hold of me and we can do some fishing. I have mainly been fishing the coast, but I still get out on the rivers. Take Care.
Penn
wendy
wrote @ June 3rd, 2008 at 11:05 pm
Hey Joey…its Wendy Thompson here…Noah's Mom. Remember us from Austin Angler? Im thinking about he possibility of taking Noah out of school in December and heading down your way for the season. It will be his last opportunity to do this before high school so I need to make plans now if it is to happen. i don't know if his Dad will come with us ~ he has a little trouble thinking outside of the box. Email me when you have a minute. Take care.
Facundo
wrote @ July 11th, 2008 at 6:21 pm
Joey! Great pictures! Love them! Hope some day cross you in the Patagonia, hopefully I'll not have to rescue! LOL!
Great to be in touch with you!
Cheers!
Facundo "Recon" Garcia
DAMN that is a big dorado!!!!!!!!
Sorry, the comment form is closed at this time.